Copyright 2006-2021 ® SIMCOR
all rights reserved
Maintained online by webmaster@simcorpro.com
Last modified January 2021
Fr. Andrew Chalkey, OMI
January 31, 1930 - November 18, 2020
Rest In Peace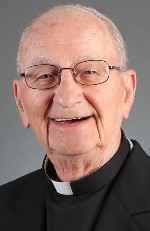 Fr. Andy was born on January 31, 1930, to the late Andy and Mary Chalkey in Streator, IL. His Oblate education was at Our Lady of the Ozarks Juniorate in Carthage, MO, Immaculate Heart of Mary Novitiate, Godfrey, IL, and our Lady of the Snows Scholasticate in Pass Christian, MS. He professed first vows as a Missionary Oblate of Mary Immaculate in 1952, and was ordained a priest in 1956.

His ministry included serving over in the missions in the Philippines and in Denmark. He also served as a member of the pastoral team at the National Shrine of Our Lady of the Snows and at the Missionary Association. Other assignments included being a member of the preaching team at Kings House in Henry, IL, and in Belleville IL, and assisting at the St. Henry's Oblate Residence until his latest assignment as chaplain to our residents at the Esquiline Community before retiring there, where he resided at the time of his death.

Fr. Andy Chalkey was preceded in death by his parents, Andrew and Mary Chalkey; three brothers, Alvin ("Babe"), Fred, and Jerome Chalkey; and a sister, Mary Frances Swagert.

Mourning his passing are his siblings, Alvida Demko, James Chalkey (Sharon),
Carolyn Blakemore, Donna Adams, Janice Dodge, and Bernice Grant;
two sisters-in-law, Kathryn and Donna Chalkey;
many nieces and nephews;
as well as some 3700 Missionary Oblates of Mary Immaculate serving in 60 countries.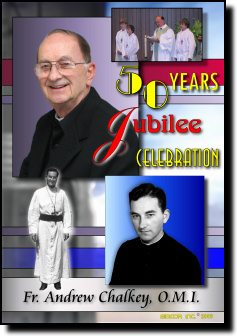 ather Andrew Chalkey is one of many missionaries dedicated to carry out the inspirations and ideals as an Oblate. He was born in Streator Illinois where many wonderful events happened that would shape his character and bring him into serving our Lord. He was ordained in 1956 which brought new challenges into his life. One of his first missions was to serve in the Southern islands of the Philippines where he flourished. He served there for 16 years. Once back in the United States he served at the National Shrine of Our Lady of the Snows in Belleville, Illinois. He had assignments in Minnesota, Wisconsin, Henry, Illinois and Spokane, Washington for several years. He volunteered and worked in Copenhagen Denmark where he served as Chaplain for the Danish people. He was Chaplain at the Apartment Community at Our Lady of the Snows for many years.
In 2005 Father Chalkey accepted his latest challenge as the Chaplain, Pastoral Care at the National Shrine of Our Lady of the Snows, his approach still remains the same. His counseling and selfless giving to the community are a credit not just to him, but to the Missionary Oblates. He helps in many wonderful ways. He has performed numerous weddings, thanksgiving masses, counseling for couples and house blessings for many. He is very well regarded for his outpour of care and love which he shows every day of his life.
He keeps a very busy schedule visiting hospitals, lifting spirits of the sick and weary patients. His travels take him many places and he meets many people.He still remain the kind, generous and thoughtful happy person he has always been.